Get Weekly Fat-Torching, Lean-Muscle-Building, Metabolism-Boosting Kettlebell and Body Weight – Based Workouts You Can Do Anywhere in 30 Minutes or Less … and NEVER Get Bored with Your Training Again!
NEW – Get the FULL Death by Body Weight Program, Over a Dozen Kettlebell Challenge Workouts, Six FVT Nutrition Challenges PLUS Eight MORE KB/BW/DB Workouts FREE When You Test Drive the FVT Coaching Club

Dear friend –
My name is Forest Vance.  I'm a former pro athlete, Russian kettlebell expert, gym owner, boot camp instructor and personal trainer based out of Sacramento, CA … and what I have to show you today is so incredibly exciting that I had to sit down and write you this entire letter.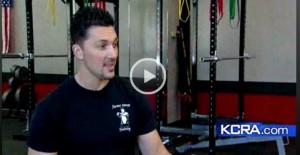 If you:
Want workouts that are fast and efficient.
Want a metabolism-boosting, fat-burning, muscle toning training plan that you can do anywhere in 30 minutes or less.
Like new, fun, and exciting kettlebell and body weight – based workouts.  It's a big part of what motivates you, and keeps you moving towards your fitness goals!!
I have the perfect solution for you.  It'll provide you with fresh, energizing, and CHALLENGING workouts – that hit all of the above criteria – every single week. You won't have to waste time planning your workouts and figuring out what to do next ever again.
Now introducing …
The FVT Coaching Club
When you sign up for the FVT Coaching Club, you'll get:
Three brand new kettlebell/body weight – based, high-intensity, fat-torching, lean-muscle-building, under-30 minutes-to-do FVT workouts each and every week.  You will never have to plan your workouts again if you don't want to.  Leave all the work to me.  Just hit your workouts hard and get results!!
These workouts are fast (most can be done under 30 minutes) and efficient (all of them are full-body in nature).  They are specifically designed to help you boost your metabolism, burn fat, and tone your muscles.  You won't need to spend 60 or 90 minutes to get your workout in, and you'll hit ALL of your major muscle groups in a single max-effort session.
A long term and sustainable plan – this workout planning strategy has worked for hundreds of my personal training clients and boot campers!  Again, all you'll have to do is log in, grab your workout for the day, get your workout clothes on, and go …
Workouts that take out the guesswork.  Stop endlessly surfing the internet to try and figure out the best workout for your goals.  All of this will be done for you!
 Check out this workout for a sample of what's inside:
This program is like my "complete solution".  It's on-going coaching from me, without you having to come in and physically train with me at my studio.
Now, I want to be 100% sure that whatever fitness and/or kettlebell training knowledge level you're starting at, you'll have the basics nailed.  That's why I'm including the following bonuses – FREE – when you sign up today:
The No Gym? No Excuse! Body Weight STRENGTH Manual (a $19.95 value)
Here's what the  No Gym? No Excuse! Body Weight Strength Manual includes:
The best, most effective body weight exercises to quickly and easily gain strength.  Challenging progressions for simple moves … get good at these and your body weight – to – strength ratio will be insane
A complete six week program to boost your strength (and one that's easily modified for almost any fitness level)
Cool alternatives to cranking out endless sets of push ups and body weight squats
Body weight moves that are NOT just a novelty (i.e. one-arm pull ups) but real, attainable exercises and progressions to get you super-strong
Bonus tips and tricks to drill down the fine points of each move – improve body awareness, perfect your technique and become a body weight training ninja
And much more!
Kettlebell Challenge Workouts 1.0 ($19.95 value)
In this high-quality, fluff-free, no-B.S. guide, you'll be taken by the hand as I walk you through:
12 kick-a@@ kettlebell challenge workouts that you can do any time, any place, with just a single kettlebell and your own body weight. Get a smoker of a workout FAST when you learn the simple secrets I uncover in this program.
Workouts that give you maximum "bang for your buck" – high intensity sessions that make every second count! Get into elite condition and burn TONS of body fat at the same time.
Hand-picked program "supplements" – I've rooted through my archives of over 500 blog posts and 150 videos, and picked the best and most relevant pieces of content to help you get the very most out of this program.  You'll find over 20 videos and articles that make sure you know how to do every exercise in the program, right the first time.
Common mistakes people make with their challenge workout programming – and how to fix them.  Keep your training targeted, while you still have fun with these unique training techniques.
TWO bonus "foundational workout plans" to go along with your challenge workouts.  I outline two complete kettlebell routines – one for losing fat, one for gaining muscle – to make sure all your bases are covered, and that you have everything you need to reach your goals as fast as humanly possilble.
Q&A – ALL of your common kettlebell challenge training questions, answered.  Want to know how to work around an old injury?  The best way to do cardio without running?  How to fit in your workouts around a busy schedule?  It's all here!!
The FVT Nutrition Challenges Manual ($7 value)
At my Sacramento, CA fitness center, during a week of each month, we announce a nutrition challenge. In six month "cycles", we touch on all the basics of clean eating … and if you take every challenge, after six months, you'll have built a foundation of healthy habits!
In this new guide, you'll find all of our nutrition challenges in one place. You can progress through them at your own pace, as fast or as slowly as you like.
KB/Conditioning/Max Strength Workouts ($7 value)
Bonus kettlebell, body weight, barbell, and dumbbell conditioning AND max strength workouts to keep you going and give you new ideas for weeks to come
Football Bootcamp Workout ($7 value)
"Football-style" boot camp workout to use with your campers or yourself!
So check this out.  It has been a struggle to figure out exactly how much to charge for this membership.  Programs at my studio range from about $200 to $700+ per month … and the workout content you're getting in this membership is essentially the same as if you were at my studio, training with me.  All you'll really need to do is log in, grab your workout for the day, get your workout clothes on and your kettlebell, and go …
On the other hand, I also realize that it's not exactly the same as training with me in person.  So I can't charge the same amount …
So I thought maybe $97.  That seemed very fair, but a little high.  Then I thought maybe $47.  A GREAT deal … but maybe still a bit prohibitive for some folks, cost-wise …
I've decided on $17 a month $9.95 a month for a very limited time!  Sign up now, and you can get three new fresh 30 minute, do-anywhere, kettlebell and body weight workouts from me each and every week, for a SUPER low price:
OR
Check out some of the results my clients have seen over the years.  These folks have made some very impressive progress  – and every single one of them used the same workouts you'll be getting in the new FVT Coaching Club program:
Jimmy Lost 15.4 Pounds and 8.17% of his Body Weight in 30 Days
Nichole Lost 15 Pounds and 7.72% of her Body Weight in 30 Days
Andrew Lost 33 Pounds and 10.5% Body Fat in Five Months
Mark Blasted His Fat Loss Plateau with Kettlebells
…and a few more comments from my online kettlebell clients, blog readers and email subscribers
"I'm 58 years old and completed P90X 2 years ago and Insanity last year, but both times I could not stay motivated to work that long and hard on a regular basis. This spring I did Insanity again but the results were disappointing. Then I discovered Kettlebells! Between the short intense workouts and the way my body is responding, I'm hooked! Starting on my 4th week and loving your straightforward instruction and the variety of your workouts."

– Britt

My "gym" is outdoors wherever I happen to be parked(I'm a trucker). My ultimate goal is to get down to my maximum weight when I was in the army(184lbs). That was when i was in my early 20′s. when I started working out, I weighed 278. Today, at 52, I'm down to 231.

– Jim

Version 1.0 changed my life – With kettlebells and clean eating, my waist is down almost ten inches in the past year.

– Dustin

I'm a Type 2 diabetic, and can proudly say that I manage this condition 100% drug-free, thanks in large part to my kettlebell workouts!

– Steve

Since using Kettlebell training I lost 65 pounds and went from a wheel chair to walking with a walker to walking with a cane.

– Robert

I am 75 years old and a fan of kettlebell workout. It is short but efficient and leaves me vigorous and energetic. I know I am in better shape than most of my friends my age or younger. I am stronger and my balance is better than they. Recently I had a college reunion, and my old friends were all amazed at how I look.

– Yugo

Working with Kettlebells has changed my thinking regarding exercises in general. Not only is it a great cardio workout but also my strength overall has really improved, having a stronger core, losing weight and being able to work out in a short time are all pluses for me. Having the proper form to follow and develop into a regular routine has made me a believer in Kettle Bells. Thank you for the routines, tips and suggestions to add to my training.

– Gabriel
Your 30 Day Money-Back, No-Questions-Asked, 100% Satisfaction Guarantee
Just sign up for my new membership program and go through the first workout. If you feel like you haven't ALREADY gotten your money's worth, then please contact me and I will refund every penny of your purchase, no questions asked. Better still, take a full 30 days to do these workouts and benefit from them. If for any reason at all you're unsatisfied, contact me still and I will refund every penny of your purchase.
Our 30 Day 100% Money Back Guarantee
Do this: read just the first section and go through the first workout. If you feel like you haven't ALREADY gotten your money's worth, then please contact me and I will refund every penny of your purchase, no questions asked.
Better still, take a full 30 days to do these workouts and benefit from them. If for any reason at all you're unsatisfied, contact me still and I will refund every penny of your purchase.
So – you only stand to gain when you sign up now. It's easy – just click the add to cart button below, you'll be taken to a checkout page and get instant access to this awesome new program! 
OR
Thanks so much for checking out the new and improved FVT Coaching Club.  Simply click one of the links above to start now, and I'll see you on the inside!
– Forest Vance
Master of Science, Human Movement
Level 2 Certified Russian Kettlebell Instructor
PS – Remember – in the FVT Coaching Club, you'll get weekly "do-anywhere-in-30-minutes-or-less", fat-torching, lean-muscle-building, metabolism-boosting kettlebell and body weight workouts from FVT.  This will take all the guesswork out of your workout programming.  You'll be able to simply log in, grab a workout for the day, change into your workout clothes and go.
PPS – Folks have achieved some incredible results with my workouts over the years – and these are the exact same workouts you'll be getting with this program.  Check out the written and video testimonials above to see exactly what people have achieved.
Frequently Asked Questions
Q: Is there a miniumum monthly commitment with this program?
No, there is no minimum commitment. You can cancel at any time.
The only exception would be if you were to pre-pay for one year – in which case you would pay for ten months up front, get one free, with no recurring billing.
Q: Do the workouts include videos?
No, the workouts do not include videos at this time.  They are in written format.
As the site develops, we may add video demos of new exercises – but the membership price will also go up as more features get added to the site.  To lock in the best rate, sign up now!
Q: I already have your some of your other programs.  How is this program different? It looks pretty similar to what I already have by the description.
A:  Great question.  The new FVT Coaching Club program quite simply consists of three new kettlebell/body weight – based workouts each week. I take the three best workouts from the 25 or so group sessions we do every week at my studio, write them up, and put them in the membership site interface.
So the workouts would be similar in style, you could say, to other programs I have written – you would just be getting three brand new ones every week.
NOTE: The 'FVT Coaching Club' program is a digital membership site. After you order, you will get INSTANT ACCESS to view the program. No hard products will be shipped.
Note: Due to recent statements from the FTC, it is required that we identify what a "typical" result is. The truth: most people never do anything with the products they buy, so most of the time, their typical results are zero. The biggest factor is you. I've lost over 64 pounds lbs and I've worked with clients who have lost 100 pounds and more using my training system. They were willing to put in the work and effort.