From: the desk of Forest Vance, personal trainer and former pro football player
Dear friend,
As you probably know, I own a gym in the Sacramento, CA area, and also run an online business. Juggling these two things, and a busy family life, pretty much makes it crazy busy, all the time. It's a constant balance, as I'm sure you know – working hard and providing for the family, but also being able to spend quality time at home and AWAY from the gym.
That's why I've decided to no longer accept new one on one training clients in person. I've hung on to it for a long time because I enjoy it … but it's time to move forward from that phase of the career. We have trainers at the FVT Studio that do an AWESOME job delivering this service … and it's now my job to coach THEM up, to make sure they are constantly learning and evolving and getting better, and to help them continue to give our private clients the best possible results.
That being said, I still really do enjoy working with people in a one-on-one capacity … and I get a lot of requests from folks that still want to work with me personally. And that's also why I've decided to start an online coaching program.
I can still work with folks one on one and connect and help them reach their goals … but do so on a slightly more flexible time schedule and from home, etc.
Plus I can go beyond just the Sacramento area and actually coach people all around the WORLD – which is SO awesome!!
I need coaching, guidance, help to get where I want to go. I had coaches every step of the way throughout my athletic career. Now I have coaches in both the kettlebell / advanced body weight training realm and in business. I believe in coaching 100% as the most powerful way to get to your goals in the fastest time frame possible.
So check this out.  I'm personally taking on a select group of distance coaching clients that want to get in the best shape of their lives.
If that sounds like you, read on because I'll map out exactly how we can work together, for a FRACTION of the cost of working with some mediocre trainer at the local gym.
My process works like this:
First, we get on the phone one on one and go over your goals, what you've done in the past, how it worked (or didn't) and what your unique, individual needs and circumstances are so that we can determine if working together is a good fit.
By the end of that initial conversation we'll know if you're a good fit for my distance coaching program and if I'm a good fit for you. I'll tell you now that this isn't for everyone.
If we decide that we're a fit, then I'll take you through my assessment protocol to determine exactly how to optimize your program for maximum results.
Then I'll custom design your program, specifically to fit your personal needs and goals…and every training session will be individually designed for you.
No one-size-fits-all, cookie cutter program. This is a custom designed blueprint to guarantee that you finally get the body that you want.
Next, I'll tailor your diet to fit your schedule and personal lifestyle. If you travel, we'll accommodate it. If you're pressed for time, we'll work around it. You'll have a uniquely personal nutritional plan that will accelerate your results no matter how much of a challenge 'eating right' has been for you in the past.
Finally, I'll teach you all the tricks and hacks I've learned through coaching tens of thousands of people to getting in the best shape of their lives. These are the scientifically backed and real world proven shortcuts will dramatically accelerate your results.
Once we've constructed your personalized blueprint for success, we'll optimize it each and every month as your body will be changing and progressing and make sure that you're always following the exact plan you need to be following to move as quickly toward your goals as possible.
And what truly sets this program apart is that as my client you have unlimited email access to me to troubleshoot any challenge that may arise, answer any question you may have and to give you the motivation and accountability you need to get results fast.
"So Forest, What's All Of This Cost?"
I know that by this point you're wondering about the investment for all of this  … as you should be.
Before we get to that, let me give you a little perspective.
The average rate for personal training nationally is $53 per session. So if you invested in an 'average' trainer to work with you 3 days per week, or about $636 per month…and that doesn't address your diet at all (responsible for at least 75% of your results).
Big box health clubs rent you access to their equipment, offer no coaching and, in all honesty, hope you never show up because they could never handle all their members actually using what they bought.
I wanted to mention all of that to you because with all of those options you're basically buying workouts or access to equipment.
Not results.
With my distance coaching program you're investing just $197 per month for EVERYTHING you need to get the results you want.
100% personalized for you.
Again, This Is NOT For Everybody.  I have to be VERY picky about who I work with.  So I'll be taking a chance on YOU (which I'm more than happy to do if you meet my criteria.)
Here it is:
 You have to be truly committed to your goals. They are your individual goals, not mine…but you must be committed to making them happen.
You must be coachable. I'm going to build your success plan around your lifestyle, your goals and your unique circumstances, but you have to be willing to follow the plan or work with me to adapt it if we determine something doesn't fit.
No excuses or whining. I can only work with a select few people at any given time since I'm personally designing everything specifically for them, so I want to surround myself with positive, motivated people.
That's it! Those are all my requirements.
Here's What To Do Next
Complete the questionnaire by clicking the link below. Give me as much detail as you can. Then I'll reach out to you to schedule a call where we'll go over your goals, what you've done in the past, how it worked (or didn't) and what your unique, individual needs and circumstances are so that we can determine if working together is a good fit.
If at the end of that we both feel like we're a good fit, we'll start working together to help you get the body you want.
And we decide it's not a good fit – that's OK too.
I'll never ask you for a single penny unless I know that I can get you the results you want.
Sarai J Lost 45 Pounds, Dropped 16% Body Fat and Gained 14 Pounds of Muscle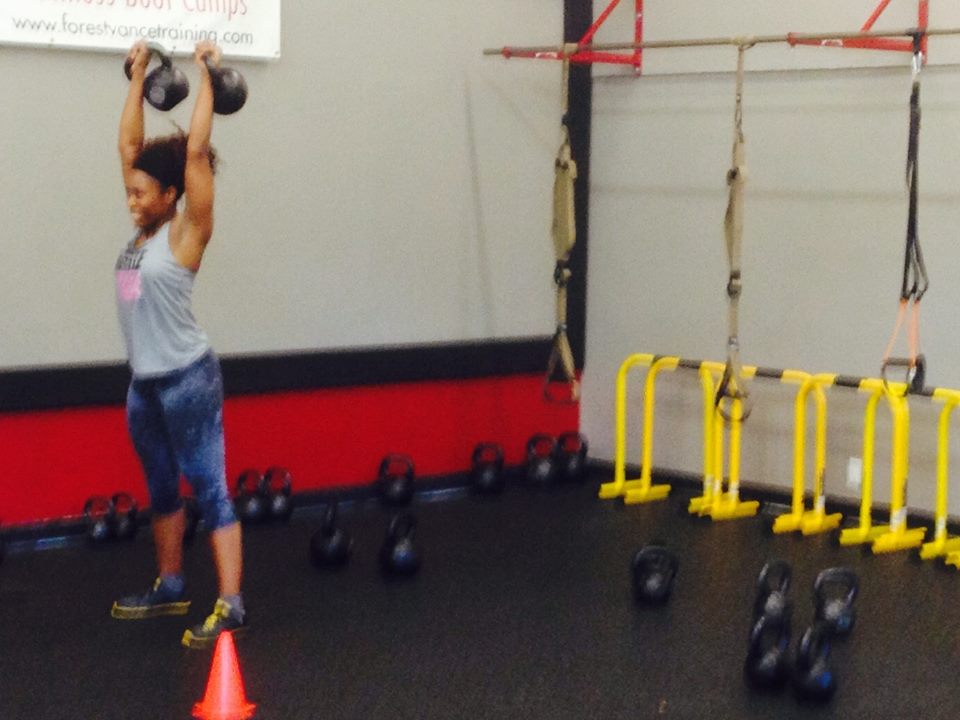 In the last twenty months, Sarai has:
– Lost about 45 pounds
– Dropped over 15% body fat
– Added 16 pounds of muscle
– Gotten her first pull up(s)
– Has gotten WAY stronger and is putting up some crazy kettlebell strength #'s
Check out the email I got from her about a year ago below:
###
Hey Forest,
I got my bodyfat tested.
I am at 173.2 lbs and 19.6% bodyfat. It's been over 3 years since I've been in the teens! I also added 9lbs of muscle and that explains why the scale is not really moving that fast even though I can see a lot of change.
It's good info. He told me to keep eating my 2400+ calories a day and keep my workout schedule cause it's working!
Yay me!
My goal is still 14-15% so I have about 10 more pounds of fat to lose.
As you know I am totally capable of working out on my own and I still do, but having the accountability of working with you has helped me get back on track this year and stay on track. Plus I learn some stuff too.
Thanks again for your help!
###
And an UPDATE one year later, 12.8.14 … Sarai is down to 158 and 15.7%!!  AND getting stronger every day!   WoW, awesome work!!!!
Erik D Dropped 60 Pounds and 16% Body Fat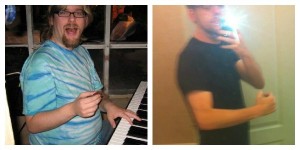 "Growing up I never thought I'd get into shape. My defeatist attitude combined with sheer laziness made me pack on the pounds over the years. With my 30th birthday approaching I decided to make a change – and I'm so glad that I did! I changed my diet and lost a bit of weight and then I discovered Forest.
I've lost 60 pounds, dropped my body fat percentage from 30% to 14% and have changed my life forever. He is attentive, supportive, tough enough and doesn't let me get away with cutting corners on my technique! What I love about working out is how it has impacted my everyday life. Now I feel energetic, vibrant, STRONG and happy. If you have ever thought that you were the type of person who couldn't get into shape, contact Forest now!"
WARNING – TIME IS A FACTOR
This opportunity is extremely limited because of the intense one-on-one time needed in order to provide you with results.
Therefore, it is physically impossible for me to work with more than a handful of people.
Also, you should realize there's a very large demand for personal one-on-one help from me, and what I'm offering to you is an incredible bargain.
After all, who wouldn't want a guarantee that they can get in the best shape of their life and do it without the huge investment associated with most training programs?
So with that said, know that the window of opportunity won't be open long.
If you feel like this is right for you, click the link below, leave your application, and let's talk:
Thanks –
Forest Vance
Owner, FVT Boot Camp and Personal Training
Master of Science, Human Movement
Level 2 Certified Russian Kettlebell Instructor
Certified Personal Trainer
Certifed Performance Enhancement Specialist
Certified Corrective Exercise Specialist
Certified Fitness Nutrition Coach
ForestVance.com
ForestVanceTraining.com
PS – I'm personally taking on a handful of distance coaching clients that want to get in the best shape of their lives.  You'll get AMAZING results, in a shorter time than you EVER thought possible, and you'll do it at a FRACTION of the cost of working with an average (at best) trainer at your local gym.
PPPS – Don't take my word for it – see what others have to say about the results they've achieved with my program – you can see their testimonials above, right on this page.  Then contact me today to schedule your free strategy session!